6,715 actions
goal: 9,000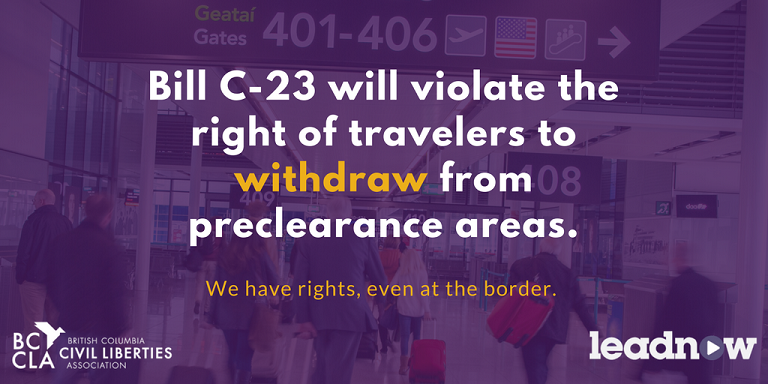 Our rights while travelling to the United States could be at risk. The Senate is currently debating a bill that would give US border officials unprecedented rights to search and detain Canadian citizens, on Canadian soil.
Bill C-23 would grant US border guards new powers to question, detain and even strip search Canadian citizens going through US customs in Canadian airports.[1]
The bill has already passed the House of Commons and could become law with little fuss in just a few weeks, unless we speak up now.
We've partnered with the BCCLA to stop this bill in its tracks - but we need to act fast. Will you send an email to members of the Senate National Security and Defence Committee and Public Safety Minister Ralph Goodale asking them to refuse to pass Bill C-23?
---
More info about Bill C-23
Bill C-23, the border preclearance bill, will implement a new agreement between Canada and the US, and grant US border officials sweeping new powers on Canadian soil. We are very worried about a few things in Bill C-23:
Violation of the rights of travelers to withdraw from a preclearance area if they choose. Currently a person is free to leave a preclearance area at any time. If Bill C-23 becomes law, US border officials will be able to question someone who chooses to withdraw. We say this change enables US officials to detain people who should be free to leave.
New ability for US officers to conduct strip searches on Canadians. We say that US officers should never have the authority to strip search Canadians on Canadian soil.
Furthermore, we don't believe US border officials can be held properly accountable under this law.
While we recognize the benefits of preclearance for tourism and trade, many of the expanded powers included in Bill C-23 are simply not justified and could be found to be unconstitutional.
More info:
[1] Canada-U.S. preclearance bill finally moves ahead, but privacy concerns mount over Trump's 'extreme vetting' (National Post): http://nationalpost.com/news/politics/canada-u-s-preclearance-bill-finally-moves-ahead-but-privacy-concerns-mount-over-trumps-extreme-vetting
[2] Pre-clearance bill would give U.S. border agents in Canada new powers (CBC): http://www.cbc.ca/news/politics/pre-clearance-border-canada-us-1.3976123
[3] Rights at the Border – still more… (BCCLA): https://bccla.org/2017/07/rights-border-still/