News from Leadnow
Who are Leadnow's Courage to Lead Champions?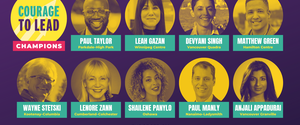 Thursday, September 2, 2021
Our best shot at tackling the intersecting crises we're facing is if we can elect courageous leaders
— who not only recognize the scale of these issues, but will rise up to respond with emergency-level action. Having the courage to tackle these crises means championing a Just Transition and a Basic Income on the campaign trail, in the House of Commons, and even challenging one's party to be better and more ambitious. That's why we've endorsed 9 champions with the Courage to Lead.
read more »